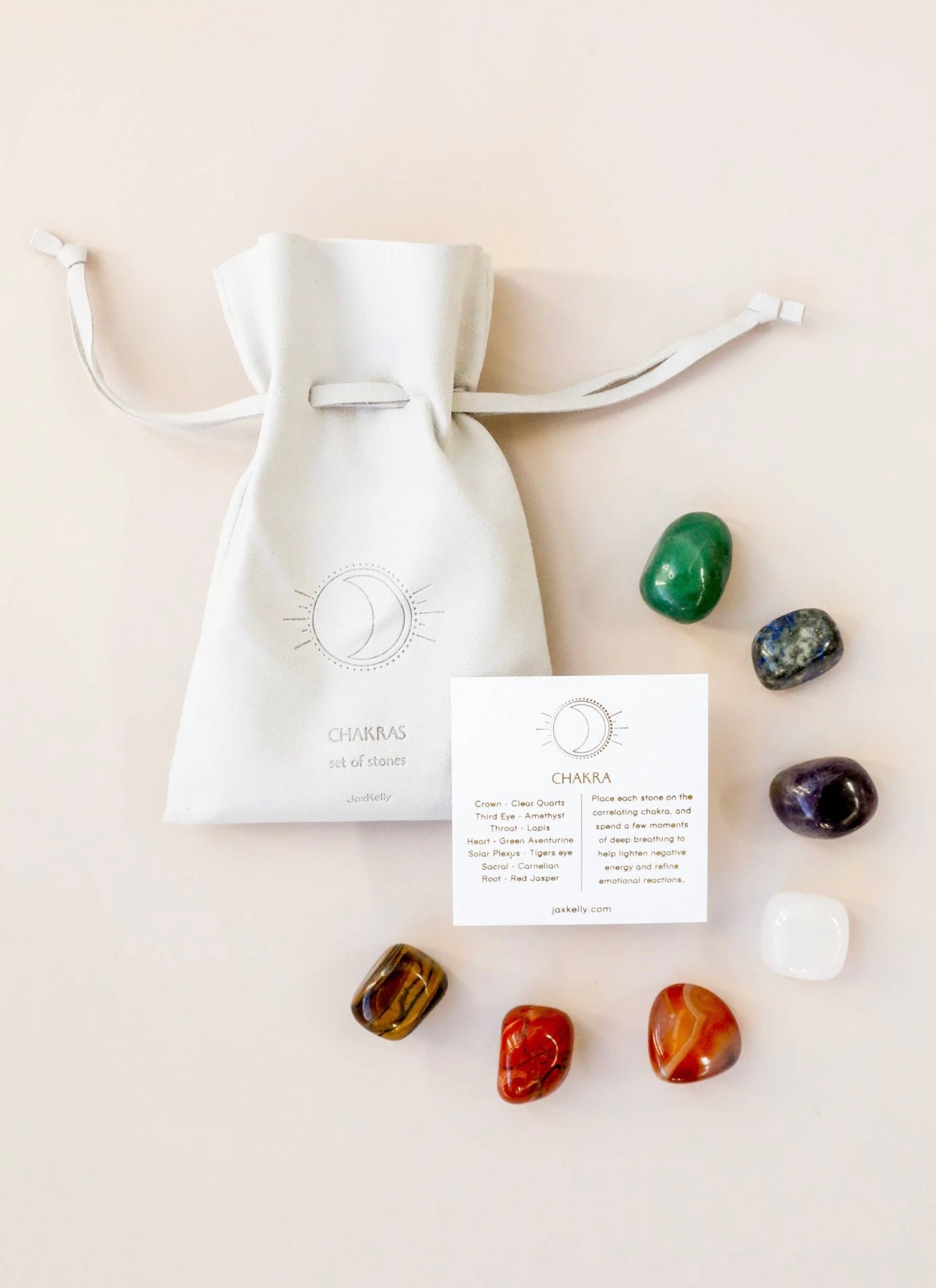 Jax Kelly - Crystal Kit
Available In Store 
New Beginnings: A trio of stones to let go of the past, to find meaning within a struggle, and to bring optimism, hope, and clarity to the future. Block negativity with Obsidian, find resolution with Pink Opal, cleanse and amplify your energy with Clear Quartz. Carry these stones with you or place them in a special space to manifest new beginnings.
Love + Abundance: A trio of stones to manifest an open heart, ready to receive and give love of all types, to create a safe space to wash away doubt and fear, welcoming in a life of abundant joy. Heal past wounds with Amethyst, open your heart with Rose Quartz, bring abound these in abundance with Green Adventurine. Carry these stones with you or place them in special space to manifest love and abundance.
Chakras: Use this collection of stones to purify and balance the 7 chakras aligning your energy. With continued practice, these stones will help lighten negative energy and refine emotional reactions. Place each stone on the correlating chakra, and spend a few moments of deep breathing focusing the lightness and energy of the gemstone towards this space in your body.
Grounding: A trio of stones to reignite your connection to the Earth, to shift your awareness into a space of peace and gratitude, to find the delicate balance of mind and body. Find gratitude with Unakite, create space for inner peace with Peach Quartz, allow for balance in your day with Dalmatian Jasper. Carry these stones with you or place them in a special space to connect and ground your body.
All crystals are natural. Due to the inherent nature of the stones, colors and variations will occur. Photos are for demonstrative purposes and may or may not feature the crystals you receive. 3 tumbled gemstones Genuine polished crystal stone Suede-feel drawstring bag Description provided about crystals is for information purposes only and not intended to diagnose, treat, cure, or prevent any diseases.

Made in United States of America
---